Robotics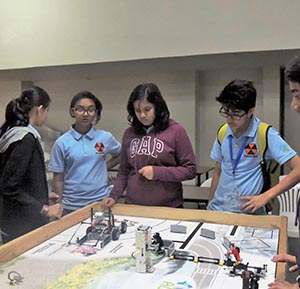 The FLL Team, Robolutions, of the St. Mary's Robotics Club, won an award at the recently concluded First Lego League Tournament, Conducted by US First. Our Robotics term started alongside our school term in June and on the very first day we were divided into two teams which were later given the names ROBOFALCONS and NUKETECH.
The Robofalcons comprised of - Arnaav Sareen, Janak Chabria, Anish Pasricha and Shlok Sagar.

The Nuketech comprised of Arnav Barve, Dhruv Bhotra and Asher Wycliffe.

Throughout the year we have learnt a lot and it was not only confined to building the robot and matters related to math and science but we also learnt about essential aspects of life like teamwork, cooperation with each other and aspects of inclusion. This experience of being in the Robotics Club has enriched each and every one of our personalities and has been unforgettable.

In our regional tournament "The FLL 2017 – Animal Allies Challenge" was organized at the Zydus School, Ahmedabad on 21st January 2017. Eight qualified teams, including our two teams, took up the challenge. Team Robofalcons got a medal for the Best Core Values and also Good Code of Conduct. This medal made worthwhile the effort we put in the whole year and made us believe that with hard work anything is possible. Arnaav Sareen, 8 D
Read More...
Ham Radio Club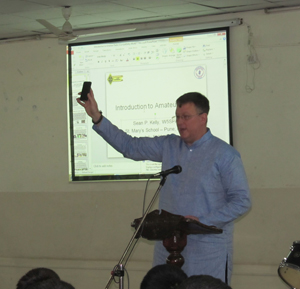 Communication is the key to better understanding of each other. In these days of advanced technology, it is refreshing to see that the students of the Boys' Section are learning to interact with
people from across the globe using a simple device like the Ham Radio. This does not require electricity, is easy to handle and is an important way of conveying vital information using the Morse code.
Read More...
Music Group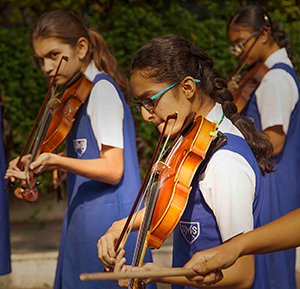 The School Choir regularly participates at our Speech Day and Graduation Day. The boys also have their own orchestra, which performed live at the Speech Day held in October 2015.
Nature Club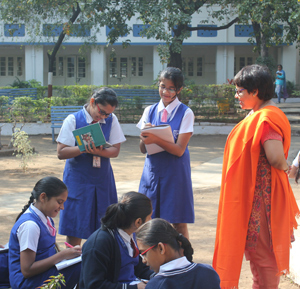 This is a place where the students of the Girls' Section work together towards comprehending nature, its conservation and sustainability. Its aim is to restore nature
in a passive and easy way, that's artistic, fun and enjoyable for the students.

Awareness about the subject stays the first aim of the club and they work by creatively passing the message; either by painting an enlightening scene over a sheet and displaying it, or writing one liners on a t-shirt, making informative book marks that come handy while reading a book, and so on.
Read More...
Chess Club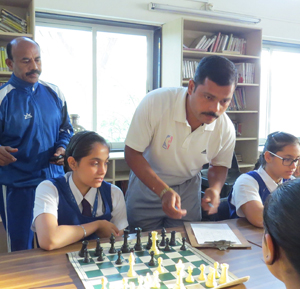 In a country like India where Cricket is the most popular sport, it is difficult for indoor sports like Chess to receive adequate encouragement. But in St.
Mary's School every sport gets equal importance.

The Chess Club began in 2014. It has attracted the girls who like playing the game and want to keep practising and sharpening their skills.The Chess Club is held every Saturday in the School library. It improves one's concentration and problem solving ability.
Read More...
Writers' Club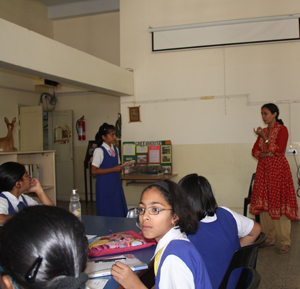 Stories are magical; poetry is the music of the soul. The Writers' Club, as the girls fondly call it, meets twice a week to weave stories and poems, keep
imagination alive and kindle it when inspiration threatens to run dry. Conducted by children's writer Varsha Seshan, an alumnus of St. Mary's School, the club encourages girls from classes six and seven to express themselves to the best of their ability, exploring the realms of beauty and creativity.
Read More...
Che-mystery Club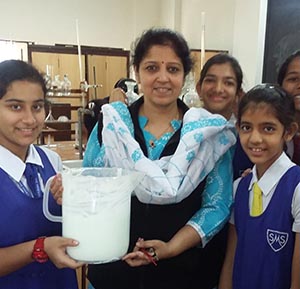 With the help of Dr. Surekha Bhalerao and their dedicated teachers, the students of classes six and seven of the Girls' Section, are enjoying their time in the Girls now understand the importance of using natural ingredients for cosmetic purposes.They have learnt to prepare cosmetics by themselves. They have prepared
one more batch of moisturizer with Lemon and Orange flavour. They plan to make lip balm and scrub , next.
Read More...