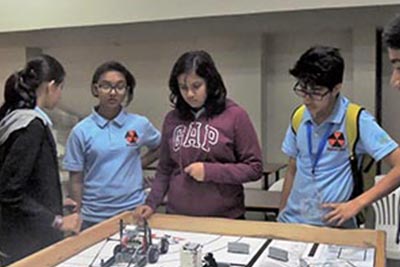 ROBOTICS
The FLL Team, Robolutions, of the St. Mary's Robotics Club, won an award at the recently concluded First Lego League Tournament, Conducted by US First. ...Our Robotics term started alongside our school term in June and on the very first day we were divided into two teams which were later given the names ROBOFALCONS and NUKETECH. The Robofalcons comprised of - Arnaav Sareen, Janak Chabria, Anish Pasricha and Shlok Sagar.
The Nuketech comprised of Arnav Barve, Dhruv Bhotra and Asher Wycliffe.
Throughout the year we have learnt a lot and it was not only confined to building the robot and matters related to math and science but we also learnt about essential aspects of life like teamwork, cooperation with each other and aspects of inclusion. This experience of being in the Robotics Club has enriched each and every one of our personalities and has been unforgettable.
In our regional tournament "The FLL 2017 – Animal Allies Challenge" was organized at the Zydus School, Ahmedabad on 21st January 2017. Eight qualified teams, including our two teams, took up the challenge. Team Robofalcons got a medal for the Best Core Values and also Good Code of Conduct. This medal made worthwhile the effort we put in the whole year and made us believe that with hard work anything is possible. Arnaav Sareen, 8 D.