The School has played a pivotal role in producing state and national level players in hockey, foot ball, netball and basket ball in the past thirty two years.

As of today ,though hockey and netball have been discontinued , the School provides facilities for various sports like Aerobics, Swimming, Basketball and Football. The students participate regularly in both inter and intra-school tournaments. We have prepared students who have played in the national teams for their respective games.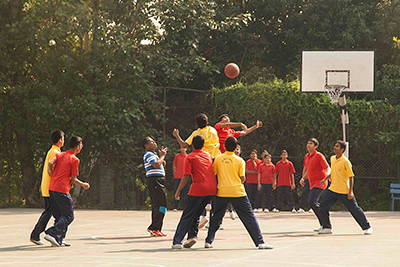 In the year 2014-2015, the following students have represented the School and the State at the nationals for Basketball:



BASKETBALL

Durga Dharmadhikari - U/17 Girls
Durva Kakade - U/17 Girls
Saakshi D'Souza - U/17 Girls
Sai Bhade - U/17 Girls
Pranava Nande - U/17 Girls
Saachi Kulkarni - U/17 Girls
Ali Zainulabedeen Raja - U/17 Boys
Karl Chari - U/17 Boys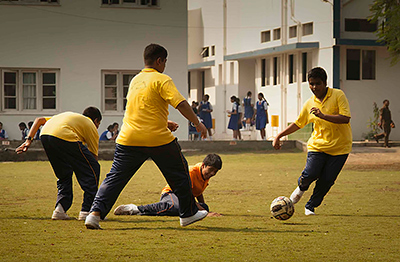 In the year 2014-2015, the following students have represented the School and the State at the nationals for Football:



FOOTBALL

Devika Rajwade - U/14 Girls
Tushita Yadav - U/14 Girls
Gia sundaram - U/14 Girls
Aishwarya Gadekar - U/14 Girls
Shivani Harer - U/19 Girls
Gitanjali Pais - U/19 Girls
BASKETBALL - GIRLS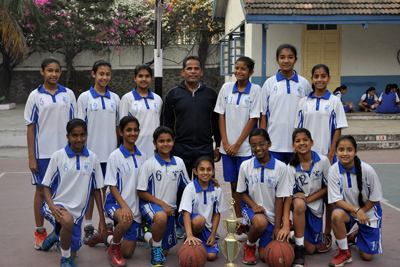 Our Under-13 Basketball team won laurels for our school on the 11th of March 2016 in the Late Rajabhau Chitale U-13 District Championship. The matches took place in Millennium High School from the 4th to the 11th of March. Our team emerged victorious from amongst 51 schools who participated in the tournament. The team had to play the final match against the Sharp Shooters and was the triumphant winner with a score of 44-22.The hours of gruelling morning practice and all their hard work under the guidance of their coach, Mr. Arun Chopade, paid off as the match ended with a nail-biting finish.
SCORE FOOTBALL LEAGUE - GIRLS' SECTION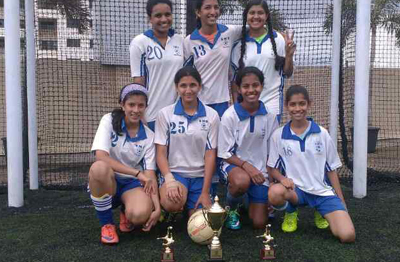 Our Under-16 Girls football team brought glory to our school once again on 5 th July 2016 by winning the Score Football league that was held in Score at Seasons Mall on the 4 th and 5 th of July. We had a flying start to the tournament by defeating the opponent team by a score of 4-0.After this match, our confidence peaked and we took off. We won the next three matches!! The scores were 8-0, 11-0 and 6-0 respectively because of our good passing and team co-ordination. From among the five teams participating in the tournament, our school emerged victorious by defeating the Orbis School team by a margin of 2-1 in the finals. It was a tough fight and the match finally ended in penalties. But our team held its own and came out with flying colours to win the trophy for our school. The hard work put in during preparation and the guidance of our coaches were the major reasons for this success.